How to build gender balance in the energy research portfolio – we need a Power Shift
Basia Cieszewska, Jess Britton, Julie Smith, 17th June 2016
The challenge of rapidly decarbonising our energy system can't be addressed if only half of the population is involved. Unfortunately it's old news that women are significantly underrepresented in Science, Technology, Engineering and Maths (STEM) subjects, with the UK having the lowest proportion of female engineers in the EU[1]. Across all academic disciplines women account for 58% of Postgraduate students but only 25% of Professors[2]. Chris Skidmore, Minister of State for Universities, Science, Research and Innovation added to the list of longstanding pronouncements on the topic, writing earlier this year, when he said:
'To have real equality in the sector, we need to ensure talented women are able to progress into the academic and leadership roles they desire, and get the remuneration they deserve… Having women properly represented in all aspects of university life is not only a sign of a fair and inclusive society; it can also lead to a more cohesive, collaborative academic community.'[3]
Why now?
Our research explores the current state of gender balance in UK energy research. We looked at the data and talked to female energy researchers about their experience of securing research funding and of academic life. They told us what needs to change.
The time for change is now. Urgent climate action needs more women and closing the energy gender gap will lead to more innovation and accelerate the transition to more sustainable and renewable energy systems. Progress on gender balance has been too slow for too long. There is a welcome renewed focus on equality, diversity and inclusion (EDI) as UK Research and Innovation becomes established, and we need to ensure that this opportunity is fully seized upon. We also eagerly await the outcomes of the consultation on the Concordat to Support the Career Development of researchers, expected later this year [4]. The energy sector needs woman and the current under-representation of women in energy research funding is a waste of talent and expertise.
Exploring gender issues in energy
Energy research is a hugely diverse field, cutting across many academic disciplines and exploring a plethora of intertwined socio-technical challenges. We spoke to 59 female energy academics from across career stage, disciplines and institutions to better understand the issues they face. We also analysed the available data on gender and energy research funding, though due to limited data availability we focused our analysis on funds distributed by the Engineering and Physical Sciences Research Council (EPSRC).
The analysis of the available funding data confirms what has been long felt among the energy research community – gender balance is poor in the energy research portfolio (figure 1).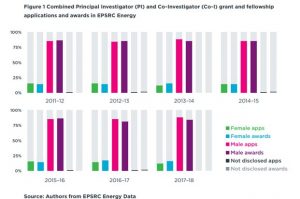 Our findings show the proportion of female Principal Investigators (PIs) and Co-investigators (Co-Is) remains low and grants awarded to female PIs tend to be of smaller value. There is also a significant drop-off between the number of PhD students and funded female researchers, with energy research losing talent at an early stage. In the last two years there has been some progress in the gender balance of Peer Review Panel Members and the data suggests a small increase in awards granted to female researchers, however progress is slow.
Our interviews with female researchers unearthed a whole range of issues that are holding women back. Some of them relate to funding processes and structures but it quickly became apparent that progress in those areas needs to be accompanied by systemic change within the institutional structures and cultural environment of the universities. Systemic interventions are crucial and a piece-meal approach will not work.
The research identified four key ways in which UKRI, other funders and universities can work to improve gender balance: Look at the data; Fund more women; Stimulate career progression for female energy academics and Build on what's working.
Look at the data
Understand the data and be transparent – there are significant difficulties in accessing meaningful data on gender balance in energy research. UKRI should publish data across thematic areas such as energy, set targets, monitor progress and provide annual updates.
Use quantitative and qualitative data to identify key intervention points. For example both data sets analysed in our study indicated that the trend towards large grants and big consortia bids disproportionately impacts female academics
Speak to female energy academics – we need to know more about how researchers experience biases, barriers and wider academic life. The links between research culture and EDI issues also need to be acknowledged.
Continue to improve review panel gender balance while drawing on a wider pool of more junior academics. Involvement in peer review can play an important role in learning how to write successful applications.
Fund more women
Funding structures can be a barrier – get the basic right by ensuring timescales are realistic, events are accessible and EDI statements are effectively monitored.
Part-time working and career breaks are perceived to slow progress – the assessment of part-time working and maternity leave needs to be standardised across funder eligibility criteria and in the review process. The impact of over-relying on quantitative measures of academic esteem needs to be scrutinised.
A lack of diversity of funding types impacts on women – trial innovative approaches to allocating funding and support early career researchers.
Stimulate career progression for female energy academics
Acknowledge and take action on the individualistic, long hours culture of academia – the ability to work long hours should not be synonymous with productivity and commitment.
Institutional structures and cultures need an overhaul – address the funding hierarchy and review criteria for research productivity: don't assume everyone has an equal start point.
Publicise more widely what UKRI is already doing to fund female energy academics and raise their profile
Build suitable training, mentoring and support networks to help more women progress and ensure the visibility of female researchers.
Build on what is working
Identify key points of engagement to build gender balance: combine specific targeted actions, such as legislation, UKRI and university frameworks and targeted funding initiatives with long-term action on structural issues that promote cultural change in our institutions
Use a top-down and bottom-up approach- systemic solutions are the only ones that can work.
Ensure equality of voice – women's voices must be heard.
The recommendations in our report serve as a starting point but there is a need for more research on gender balance, both nationally and internationally. Further research should also take account of the many intersecting characteristics that determine whether diverse voices in energy research are heard.
You can download the report and the full list of recommendations here: https://geography.exeter.ac.uk/media/universityofexeter/schoolofgeography/pdfs/Power_Shift.pdf
[1] https://sciencegrrl.co.uk/assets/SCIENCE-GRRL-Stem-Report_FINAL_WEBLINKS-1.pdf
[2] https://www.hesa.ac.uk/data-and-analysis 
[3] https://www.theguardian.com/education/2019/mar/08/universities-need-to-promote-more-women-to-professor
[4] https://www.vitae.ac.uk/news/copy_of_concordat_to_support_the_career_development_o
Related Posts
« Previous Sign Up for Our Free 4 Week Online Course: Transforming Energy Systems: Why governance matters The significance of Parliament's Citizens Assembly on net zero Next »